<<Today's Moon Phase: << Daily Void of Course Moon Information & Ephemeris >>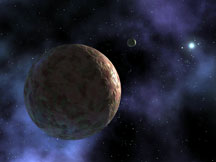 >>Newly discovered planet Sedna, split-tailed Mermaid Goddess of the Seal People>>

© 1993 - 2003 linda falorio & fred fowler Last Updated Saturday, May 18, 2013
Enter AnandaZone's Discussion Forums | AnandaZone: Chat! | AnandaZone Weather? | Enter AnandaZone's Abyss |get AnandaZone mail!

Human personality and dayside awareness are but luminous flecks upon the vast ocean of primordial consciousness which is dark, shadowed, hidden, yet which contains all possibility within itself, and has the power to birth all possible worlds.

Current Number of Visitors: 1

Y

our daily

Vedic Astrology

prediction


<! -- End CyberAstro code -->

A Wicked Pack of Cards: The Origins of the Occult Tarot - Ronald Decker, et al
A History of the Occult Tarot: 1870-1970 - Ronald Decker, Michael Dummett (Hardcover - November 2002)

Tarot & Magick - Donald Michael Kraig, Mary K. Greer; Paperback

Modern Sex Magick - Donald Michael Kraig, Linda Falorio, Nema, Tara

Typhonian Teratomas: The Shadow of the Abyss by Mishlen

The Faces of Babalon - Mishlen, Linda Falorio, Soror Chen, Nema, Raven Greywalker.